Personal Finance Tip of the Day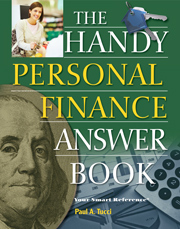 ---
What are some risks and limits of leasing a car?
The value of the car may end up being less than the purchase price.
There are limitations on the amount of miles you can drive.
Fines for excess mileage can be quite high.
---
---
One of the greatest risks in leasing is that the car depreciates more during your lease period, and the value of the car at the end of the lease period may be less than what the dealer says you must pay to purchase the car. There may be many of the same types of cars coming off of the lease, and the real price of the car may have dropped, more than what the finance company predicted some years before when you signed the lease.
Leased cars have limits as to how many miles they may be driven each year. If you are over, you may have to pay a high-per-miles charge at the end of the lease period as a penalty for driving the car too much.
From The
Handy Personal Finance Answer Book
by Paul A. Tucci, (c) 2012 Visible Ink Press(R) Answers to more than 1,000 answers to questions on personal finance, its history, and managing one's financial life.
Dig deeper with these related titles:
---