Personal Finance Tip of the Day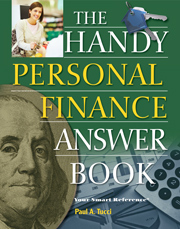 ---
How can I get out of debt, and what is debt consolidation?
Understand how you contributed to causing the debt with your behaviors and circumstances.
Focus on changing your behavior, like undisciplined spending or owning a home beyond your limits.
Take out a smaller-interest loan to pay off higher-interest loans as a last resort.
---
---
The most important step to getting out of debt is to understand what behaviors or circumstances caused the debt to begin with, and then focus on changing those behaviors first. This means that if you have incurred a lot of credit card debt because of undisciplined spending habits, you must immediately attack the root cause of the debt, in order to reduce your debt. If you incurred a debt because you obtained a mortgage for more house than you can afford, you must find a way to sell the house without incurring a loss, and purchase a smaller, more affordable house.
Debt consolidation is the act of taking out a loan, in order to pay off several other loans. Assume that you have credit card debt carrying interest rates as high as 20%, and you have a home mortgage, with some equity in your house, with an interest rate of 5% for 30 years. In a consolidation, you take out a home equity loan, which charges a smaller interest rate, for the value of your high interest credit card debt, and then make payments on your equity loan, until the debt is paid off.
From The
Handy Personal Finance Answer Book
by Paul A. Tucci, (c) 2012 Visible Ink Press(R) Answers to more than 1,000 answers to questions on personal finance, its history, and managing one's financial life.
Dig deeper with these related titles:
---