African American Hero of the Day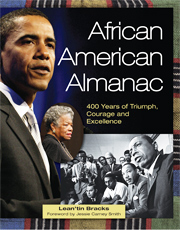 ---
What actor who was well known in the 1920s for his roles in Eugene O'Neal plays was also active in civil rights and was accused of being a Communist?
The son of a slave, he lettered in twelve college sports and was a Presbyterian minister.
He was a polyglot, speaking Chinese, Russian, Gaelic, and Spanish.
His stage successes include roles in Porgy and Bess, Showboat, and Othello.
He once had his passport revoked for refusing to sign a statement that he was not a Communist.
---
---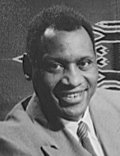 Paul Robeson (1898-1976)
Singer, Actor
Born in Princeton, New Jersey, on April 9, 1898, Paul Robeson was the son of a runaway slave who put himself through Lincoln University and later became a Presbyterian minister. Robeson entered Rutgers College (now Rutgers University) on a scholarship, and he won a total of twelve letters in track, football, baseball, and basketball. In addition to his athletic exploits, his academic ability gained him Phi Beta Kappa honors in his junior year.
In 1923 Robeson received a law degree from Columbia University, financing his schooling by playing professional football. While at Columbia, Robeson was seen by Eugene O'Neill in an amateur play. After making his professional debut in Taboo (1922), Robeson appeared in O'Neill's All God's Chillun Got Wings and Emperor Jones. Called upon to whistle in the latter play, Robeson sang instead, and his voice met with instant acclaim. In 1925 he made his concert debut with a highly successful program of all African American music. He went on to such stage successes as Show Boat, Porgy and Bess, and Othello.
A world traveler in the Soviet Union, Asia, and Europe, Robeson spoke several languages, including Chinese, Russian, Gaelic, and Spanish. Robeson's political affiliations at times tended to attract even more publicity than his artistic career. In 1950 for instance, his passport was revoked after he refused to sign an affidavit as to whether or not he had ever belonged to the Communist Party. Eight years later, the U.S. Supreme Court ruled that the refusal to sign such an affidavit was not valid grounds for denial of a passport. Robeson subsequently settled in London, making a number of trips to the continent (and to the Soviet Union as well) before returning to the United States in 1963.
Robeson played an active role in civil and human rights issues. He was a co-founder of the Council on African Affairs, and a member of the Joint Anti-Fascist Refugee Committee, and the Committee to Aid China. Robeson died January 23, 1976, in Philadelphia, Pennsylvania.
From African American Almanac: 400 Years of Triumph, Courage and Excellence by Lean'tin Bracks, (c) 2012 Visible Ink Press(R). A wealth of milestones, inspiration, and challenges met . . .
Dig deeper with these related titles:
African American Almanac: 400 Years of Triumph, Courage and Excellence


A wealth of milestones, inspiration, and challenges met. . . The most complete and affordable single-volume reference of African... Read More »

Freedom Facts and Firsts: 400 Years of the African American Civil Rights Experience


Spanning nearly 400 years from the early abolitionists to the present, this guide book profiles more than 400 people, places, and events that have... Read More »

Black Firsts: 4,000 Ground-Breaking and Pioneering Events, 2nd Edition


Black Firsts is a testament to a rich but often overlooked part of our history. Jessie Carney Smith, William and Camille Cosby Professor of the... Read More »

Black Heroes


"If there is no struggle, there is no progress," wrote Frederick Douglass. "This struggle may be a moral one; or it may be a physical one; or it may... Read More »
---