President of the Day
---
Which president was renamed after his stepfather?
He was the target of two assassination attempts by women.
He was both president and vice president without being elected to either office.
He turned down a professional football career for law school.
He pardoned Nixon.
---
---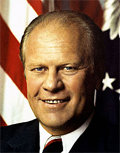 Gerald R. Ford
When did he take the name of Ford?
Dorothy Gardner left her abusive husband Leslie Lynch King only sixteen days after the birth of her son. She left Nebraska and moved to Grand Rapids, Michigan. In 1916, she married Gerald Rudolph Ford, who adopted her son. The couple renamed the boy Gerald R. Ford Jr.
What two women tried to assassinate President Ford?
In two different instances, women shot at President Ford in September 1975. On September 5, Lynette "Squeaky" Fromme, a follower of imprisoned cult leader Charles Manson, pointed her gun at Ford in Sacramento, California, but Secret Service agent Larry Buendorf quickly intervened. Fromme was given a life sentence for her attempted assassination of Ford. She finally received parole in August 2009.
On September 22, Sara Jane Moore fired a shot at President Ford that missed. As she was about to take a second shot, ex-Marine Oliver Sipple heroically dived toward her and knocked her arm. Moore was a left-wing sympathizer and former FBI informant who was hoping to gain acceptance in radical revolutionary circles. She was given a life sentence, but was paroled in 2007--after President Ford had died.
What was unique about Ford with respect to his tenure as vice president and president?
Gerald R. Ford is the only person in American history to be vice president and president without being elected to either office. He was appointed vice president after Spiro Agnew resigned and he was appointed president after Richard Nixon resigned.
Why did Ford decide against playing professional football?
Ford turned down offers from the Chicago Bears and the Green Bay Packers because he wanted to study law. He applied repeatedly to Yale Law School. Though rejected, Ford kept applying and eventually gained admission in 1938. Before gaining admission to Yale Law School, he worked at Yale as an assistant football coach and a boxing coach. He graduated from Yale Law School in January 1941 and gained admission to the Michigan bar in June 1941.
Why did Ford pardon Nixon?
President Ford gave a "full, free, and complete pardon" to former President Nixon on September 8, 1974. He stated: "After years of bitter controversy and divisive national debate, I have been advised, and I am compelled to conclude that many months and perhaps more years will have to pass before Richard Nixon could obtain a fair trial by jury in any jurisdiction of the United States under governing decisions of the Supreme Court," Ford said. He concluded:
Now, therefore, I, Gerald R. Ford, President of the United States, pursuant to the pardon power conferred upon me by Article II, Section 2, of the Constitution, have granted and by these presents do grant a full, free, and absolute pardon unto Richard Nixon for all offenses against the United States which he, Richard Nixon, has committed or may have committed or taken part in during the period from January 20, 1969 through August 9, 1974.
From The Handy Presidents Answer Book, Second Edition by David L. Hudson, Jr., JD., (c) Visible Ink Press(R) More than 1,600 things you never knew about our nation's leaders
Dig deeper with these related titles:
The Handy Presidents Answer Book Second Edition


A complete look at every Presidents' who, what, when, where, why, and, how . . . Offering an engaging overview of the U.S.... Read More »

The Handy History Answer Book, 2nd Edition


All things must pass. In an understatement of historic proportions, quite a few things have passed since the end of the last millennium, when The... Read More »

The Handy Supreme Court Answer Book


What's arguably the Supreme Court's most controversial decision? Which Justices signed the Declaration of Independence? How much do you really know... Read More »

The Handy Politics Answer Book


In these politically charged times, interest in the political process is peaking. From the national election debacle in Florida to 9/11 to... Read More »
---