Spiritual & Religious
Browse Titles
The Afterlife Book: Heaven, Hell, and Life After Death


A profound and fascinating exploration of death and the afterlife! Christian and other religious beliefs, rituals from around the world, quests for... Read More »

Ancient Gods: Lost Histories, Hidden Truths, and the Conspiracy of Silence


Where do we come from? What are the origins of modern civilization? Do the world's pyramids, the Nazca Lines, Easter Island statues, and other... Read More »

Angels A to Z, Second Edition


Written by two recognized authorities on nontraditional religious movements, this resource is one of the most comprehensive books on angels and... Read More »

Armageddon Now: The End of the World A to Z


Don't be left behind. Who knew that doomsday would be so hot? Environmental disasters, disease epidemics, the popularity of reality television, and... Read More »

The Astrology Book: The Encyclopedia of Heavenly Influences, Second Edition


Starman walks among us again. Updated and expanded, The Astrology Book: The Encyclopedia of Heavenly Influences defines and explains more than... Read More »

The Astrology Guide: Understanding Your Signs, Your Gifts, and Yourself


Capture the Wisdom of the Stars! The ancient practice of astrology has been around for millennia. The Babylonians practiced it 2,400... Read More »

Censoring God: The History of the Lost Books (and other Excluded Scriptures)


Why isn't the Book of Enoch in the Holy Bible, even though Enoch is referenced multiple times? Why were texts considered sacred by many, excluded... Read More »

Demons, the Devil, and Fallen Angels


An illuminating look at demons, devils, fallen angels, and the darker sides of human nature The devil goes by many names, and his tribe is... Read More »

The Dream Encyclopedia, Second Edition


Hundreds of dream-related topics and symbols examined and explained Exploring the fascinating world of dreams, this comprehensive reference... Read More »

The Dream Interpretation Dictionary: Symbols, Signs and Meanings


Why we dream what we dream … Revelations. Warnings. Explanations. Clues. What do dreams reveal? Can they spark creative inspiration? Do they... Read More »

Earth Magic: Your Complete Guide to Natural Spells, Potions, Plants, Herbs, Witchcraft, and More


Unearth the power of nature! Healing through herbs. Spells to find your soul mate. Stones to improve concentration and increase productivity.... Read More »

The Encyclopedia of Religious Phenomena


Visions of Mary and glimpses of GOD. Hundreds of people gather at a freeway underpass in Chicago to gaze at what mystified state police reported to be... Read More »

The Fortune-Telling Book: The Encyclopedia of Divination and Soothsaying


The past few years have witnessed a significant growth in interest and participation in divination. And we saw it coming. That explains the impetus... Read More »

The Handy Bible Answer Book


The Bible is a beloved text owned by most Americans. It's on most everyone's reading list, but it's not always read as often as many would hope. It... Read More »

The Handy Christianity Answer Book


Christianity is the world's biggest religion, with two billion followers covering nearly one third of the world's population. It has a profound impact... Read More »

The Handy Islam Answer Book


Peace, Understanding, Faith and Prayer. Reconciling the compassion, caring, and calls for peace from mainstream Muslim leaders with the... Read More »

The Handy Mythology Answer Book


Epic Tales and Classic Heroes. Vainglorious gods and irresistible seductresses. Beastly beasts and brutal warriors. Stories centuries in the... Read More »

The Handy Religion Answer Book, Second Edition


A question-and-answer guide to the prominent religions of the world... The spiritual world we live in today is a diverse and... Read More »

The New Witch: Your Guide to Modern Witchcraft, Wicca, Spells, Potions, Magic, and More


Celebrate the Modern Witch! Good energy. Sacred spaces. Healing, harmony and balance. Honoring Earth and nature. Developing your... Read More »

Nightmares: Your Guide to Interpreting Your Darkest Dreams


An illuminating look at interpreting, understanding, and learning to stop nightmares! You're chased. You fall. You get shot.... Read More »

Real Miracles, Divine Intervention, and Feats of Incredible Survival


Lightning strikes, lotteries, and Lourdes--miracles really do happen Including more than 200 true, thought-provoking stories, this... Read More »

Real Visitors, Voices from Beyond, and Parallel Dimensions


Apparitions. Out-of-body journeys. Ghosts. Angels. Spirits. Unidentified terrestrial life forms. Bumps in the night. Encounters with the unknown.... Read More »

The Religion Book: Places, Prophets, Saints, and Seers


Religion has long been at the top of the news and eternally an inspiration. To expect to understand religion's role in people's lives, we must... Read More »

The Spirit Book: The Encyclopedia of Clairvoyance, Channeling, and Spirit Communication


The fascinating history of Spiritualism is coaxed into the material realm as the object of this perceptive and sweeping overview by that legendary... Read More »

Supernatural Gods: Spiritual Mysteries, Psychic Experiences, and Scientific Truths


Exploring the collision of the "supernatural" unknown, the universe, and science Black Holes. Dark Matter. Dark Energy. Entanglement Theory.... Read More »

Time Travel: The Science and Science Fiction


Jumps, Leaps, and Travels Who doesn't yearn to travel through time to revisit the past or see the future? We live much of our lives... Read More »

The Vampire Almanac: The Complete History


Immortality, Temptation, and the Forbidden! What accounts for the undying fascination people have for vampires? How did encounters... Read More »

The Witch Book: The Encyclopedia of Witchcraft, Wicca, and Neo-paganism


I put a spell on you and you and you. A direct link to our wild and crazy nature-loving pagan past, witchcraft has mesmerized people for hundreds, if... Read More »

The Witches Almanac: Sorcerers, Witches and Magic from Ancient Rome to the Digital Age


Real Witches. Real Lives. Real Magic. Real History. Take a magical tour through the lives and times of 359 of the most important sorcerers and... Read More »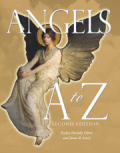 ---
Religious Holidays Quiz:
In the Catholic tradition, what holidays are associated with angels?
---
---
Thanks for visiting. Check back daily for new flashcard questions, fun facts, and other trivia. For past questions, fun facts and trivia—and other topics—visit our archive of quizzes and fun facts--or dig even deeper into a topic through our list of books by subject.
---