The Dream Encyclopedia, Second Edition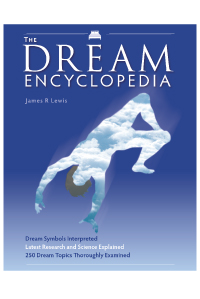 "A very convenient one-volume reference on everything you might want to read regarding dreams and dream interpretation...an excellent source of basic information."

About.com
The Dream Encyclopedia is an aid to both dream interpretation and beginning dream research.

American Reference Books Annual
easy to use…. Recommended.

Booklist
Lewis (DePaul Univ.) and Oliver (independent scholar) explore dreams in a cultural, historical, and psychological context. Recommended.

Choice
"Stop spending your waking hours trying to decipher your dreams. Check out The Dream Encyclopedia."

Complete Woman
Whether one is a serious student of dreams, or wishes merely to peruse the volume for pleasure, one cannot help but learn something about the fascinating world of dreams from Lewis's helpful contribution to the literature on the subject.

Foreword Magazine
Encompassing all facets of popular interest in dreams, this general interest resource provides a broad overview of contemporary studies of dreaming, and sheds light on notions of dreams from around the world.

Reference and Research Book News
A comprehensive reference, The Dream Encyclopedia provides a thorough treatment and a unique analysis of dream-related topics. Of particular interest is the discussion of the importance of dreams in various religious and ethnic groups around the world.

SirReadaLot.org
Tackling nearly three hundred topics that commonly occur in dreams and offering interpretations for each of them, "The Dream Encyclopedia" breaks down each symbol and explains why one's mileage may vary on certain symbols. Offering much food for thought, "The Dream Encyclopedia" is very much recommended to the curious or professional reader.

The Midwest Book Review
Hundreds of dream-related topics and symbols examined and explained Exploring the fascinating world of dreams, this comprehensive reference examines more than 250 dream-related topics, from art to history to science, including how factors such as self-healing, ESP, literature, religion, sex, cognition and memory, and medical conditions can all have an effect on dreams. Dream symbolism and interpretation is examined in historical, cultural, and psychological detail, while a dictionary?updated with 1,000 symbols and explanations?offers further insights. Dreaming about teeth, for instance, can indicate control issues, and dreaming of a zoo can indicate that the dreamer needs to tidy up some situation. Examining these concepts and more, this is the ultimate dreamer?s companion.
E-mail to a Friend
Quick Facts
ISBN: 9781578592166
PDF ISBN: 9781578592692
Kindle ISBN: 9781578592678
ePUB ISBN: 9781578592715
432 pages
75 photos and illustrations
7.25 X 9.25 paperback
$44.95 ($27.95 Can.)
Dreams and Folklore
Related Titles
You might also enjoy...
Also by James R Lewis...
Also by Evelyn Dorothy Oliver...
---
---