The Spirit Book: The Encyclopedia of Clairvoyance, Channeling, and Spirit Communication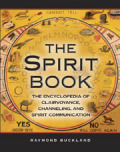 … a basic, readable encyclopedia of major terms, people, and events in modern Spiritualism. … Some 500 entries range from short paragraphs to a page or two, and each entry includes a list of sources … Recommended for academic libraries with popular religion collections and public libraries where there is an interest in Spiritualism and similar beliefs.

Booklist
"The Spirit Book, the latest in Wicca Buckland's extensive occult oeuvre (Buckland's Book of Spirit Communications), cuts a wide swath through the history of spiritualism, its precursors, and widely related supernatural subjects…. There is nothing else quite like this resource on the market."

Library Journal
"Students of the goofily strange will go for this 'encyclopedia of clairvoyance, channeling and spirit communication.'"

PEOPLE Magazine
The fascinating history of Spiritualism is coaxed into the material realm as the object of this perceptive and sweeping overview by that legendary author of the occult and supernatural, Raymond Buckland.
Containing more than 500 entries and 100 illustrations, The Spirit Book is the comprehensive encyclopedia to Spiritualism and its related subjects. Plus it provides full biographies of every prominent person connected to the field.

The Spiritualism movement began in the mid-18th century and focuses on communication with the spirits of the dead. Followers believe that spirit communication occurs primarily through mediums, although non-mediums can also communicate through a variety of methods, including automatic writing or the use of an Ouija board. Spiritualism is currently enjoying a renaissance due in part to the public appearances of mediums such as John Edward and Colin Fry and the shared belief by a growing number of people that communication with the dead is possible, however far out of cell-phone range they might be.

Drawing on decades of research, writing, and transcendence, Buckland describes sundry methods of channeling, events associated with Spiritualism, including séances and exorcism, organizations focused on clairvoyance, and a colorful host of mortals?famous and infamous?who delved into Spiritualism. Nostradamus, Helena Blavatsky, and Edgar Cayce receive their due, as well as Joan of Arc, William Blake, Susan B. Anthony, Winston Churchill, Arthur Conan Doyle, Mahatma Gandhi, Harry Houdini, and Mae West (look up and see her sometime).

The Spirit Book explores Qabbalah, Sibyls, Fairies, Poltergeists; phenomena such as intuition and karma; objects useful in the attempt to cross the divide, including tarot cards, flower reading, and runes; and related practices such as Shamanism, transfiguration, meditation, and mesmerism. The Encyclopedia covers the history of Spiritualism as well as offshoots such as Kardecism (in France, South America, and the Philippines), channeling, fraud, psychic research, and possession. It also reports on investigations of contemporary manifestations, including electronic voice phenomena and spirit appearances on TV screens (that static might be Aunt Margaret trying to get through).
E-mail to a Friend
Quick Facts
ISBN: 9781578597901
PDF ISBN: 9781578592890
Kindle ISBN: 9781578592999
ePUB ISBN: 9781578593088
528 pages
100 photos and illustrations
7.25" x 9.25" paperback
$44.95
Related Titles
You might also enjoy...
Also by Raymond Buckland...
Author Websites
---
---