The Handy Mythology Answer Book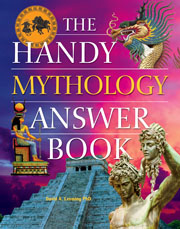 ... helpful guide … substantial information … very accessible to the student or general reader. … Highly recommended ...

Booklist
... this is well-written, authoritative, and engaging, making it an excellent resource for middle school and high school teachers or students that love to study mythology.

Children's Literature
... interprets myth as a means of accounting for natural occurrences and human cares. …

Choice
David Leeming presents a comprehensive picture of world mythology ... offers conciseness and clarity that high school students and adults can appreciate.

Christian Library Journal
Starred Review. ... likable and helpful work is recommended for public and high school library collections ... suited for circulating collections to be enjoyed by mythology fans.

Library Journal
Starred Review. This guide to mythology is everything the title promises and more. ... an ideal starting point for reports as well as an entertaining and informative read for interested students.

School Library Journal
... a valuable work for larger school and public library collections and as desk references for humanities and world history teachers.

VOYA
Epic Tales and Classic Heroes.
Vainglorious gods and irresistible seductresses. Beastly beasts and brutal warriors. Stories centuries in the making, and centuries worth of stories, are found, dissected and analyzed in The Handy Mythology Answer Book.
From the ancient Greek and Roman to Egypt and Babylon, from Native North American Indian to Celtic, Middle Eastern, Indian, Asian, African, and the lesser known myths from around the world, this book has them covered. Whether it is the modern retelling of a classic myth or an ancient story about a Norse god, this helpful resource demystifies the myth, looks at different archetypes and motifs, and even shows how myths help explain our existence and institutions. This book answers nearly 600 questions and offers fun facts about the treachery and violence, the inspirational and epic, the supernatural monsters and heroic mortals found in mythology.
What are the three primary myth types? • Did the Greeks see these myths as religion or as entertainment? • What was the Egyptian Book of the Dead? • Why is the biblical flood story so like the Babylonian flood myth? • How and why are the Odyssey and the Iliad so different from each other? • Who are some Native American tricksters? • How is myth used in politics?
E-mail to a Friend
Quick Facts
ISBN: 9781578594757
PDF ISBN: 9781578595211
Kindle ISBN: 9781578595235
ePUB ISBN: 9781578595228
416 pages
110 photos and illustrations
7.125 x 9.25 paperback
$49.95 ($23.99 Can.)
Related Titles
You might also enjoy...
---
---