President of the Day
---
Which president's face is on currency no longer printed?
He was the shortest president.
He had to flee the White House and D.C.
He is called the "Father of the Bill of Rights."
He declared the War of 1812.
---
---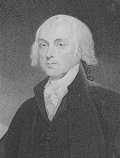 James Madison
On which denomination of currency does Madison's face adorn?
James Madison appears on the $5,000 bill, which is no longer printed.
What was unusual about Madison's size?
Madison was a very diminutive man, standing five feet, four inches tall and weighing approximately one hundred pounds. He is the shortest of all the presidents. Perhaps that is why one of his nicknames was "Little Jemmy."
What happened to the nation's capital during the War of 1812?
British forces overran Washington, D.C. and burned both the White House and the U.S. Capitol. General William Winder, whom Madison had appointed as commander in charge of defending the capital, did an inadequate job in preparing the area's defenses. Madison had to flee the city after hearing from General Wilder of the oncoming British invasion.
From what position did Madison push for the Bill of Rights?
Madison won election to the newly created U.S. House of Representatives, where he served for eight years beginning in 1789. In the House of Representatives, Madison spearheaded the adoption of the Bill of Rights--a series of amendments to the U.S. Constitution that would secure individual freedom and popular support for the new Constitution. For his role in the ratification of the U.S. Constitution and Bill of Rights, Madison is referred to as "the Father of the Constitution" and "the Father of the Bill of Rights."
What war did Madison declare that defined his presidency?
Madison asked Congress to declare war on Great Britain, leading to the so-called War of 1812. English ships continually stopped American ships on the high seas, seizing cargoes and even abducting sailors. The British also supported attacks by various Indian tribes in the Northwest.
From The Handy Presidents Answer Book, Second Edition by David L. Hudson, Jr., JD., (c) Visible Ink Press(r) More than 1,600 things you never knew about our nation's leaders
Dig deeper with these related titles:
The Handy Presidents Answer Book Second Edition


A complete look at every Presidents' who, what, when, where, why, and, how . . . Offering an engaging overview of the U.S.... Read More »

The Handy History Answer Book, 2nd Edition


All things must pass. In an understatement of historic proportions, quite a few things have passed since the end of the last millennium, when The... Read More »

The Handy Supreme Court Answer Book


What's arguably the Supreme Court's most controversial decision? Which Justices signed the Declaration of Independence? How much do you really know... Read More »

The Handy Politics Answer Book


In these politically charged times, interest in the political process is peaking. From the national election debacle in Florida to 9/11 to... Read More »
---