Personal Finance Tip of the Day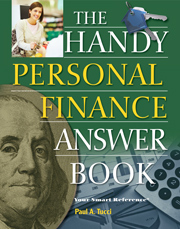 ---
What should I look for in identifying a good auto insurance company?
It should have good customer service.
It should be financially sound, with a long history.
It should be affordable.
---
---
Customer service is a very important consideration when choosing an auto insurer since you will need a company with very good service if you are ever in an accident and must make a claim. Price is also a consideration, and we always want to find the best service for the least price. Choose a financially sound company with a long history, and one that has served many people for many years. Great insurance companies also have established a network of repair facilities, and have established relationships directly with the people who can do the repairs necessary to get your car back on the road.
From The Handy Personal Finance Answer Book by Paul A. Tucci, (c) 2012 Visible Ink Press(R) Answers to more than 1,000 answers to questions on personal finance, its history, and managing one's financial life.
Dig deeper with these related titles:
---