Personal Finance Tip of the Day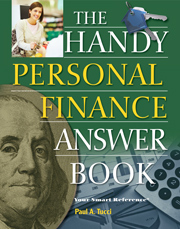 ---
What types of questions might I ask if I am choosing an accountant?
Check if they passed their CPA exam.
Find out how long they have been a CPA.
Learn if their office has enough staff for tax season.
---
---
It's best to find out if they have passed the CPA exam, which allows them to call themselves a CPA. You may want to find out how long have they been practicing as a certified public accountant, where they went to school, if they participate in continuing education courses, if they represent you in the event that you are audited, the type of software that they use to run their practice, what their rates/fees are, whether they handle clients in a similar financial situation, and do they have staff necessary to handle tax season.
From The Handy Personal Finance Answer Book by Paul A. Tucci, (c) 2012 Visible Ink Press(R) Answers to more than 1,000 answers to questions on personal finance, its history, and managing one's financial life.
Dig deeper with these related titles:
---