Personal Finance Tip of the Day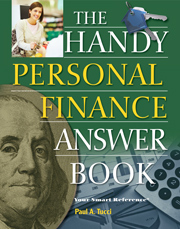 ---
How can I save on items like food expenses?
Calculate your dining-out expenses.
Consider making coffees at home.
Use filtered tap water instead of buying bottled.
Bring lunches to work.
---
---
The easiest way to save is to see how much you are really spending on eating out. Just an $8 lunch three times per week is more than $120/month that you can save. A $5 cup of coffee at your favorite cafe every morning can cost you more than $100 per month in added expenses. Stop buying lattes and coffees at your favorite cafe. It doesn't make sense to spend $5 to $10 every morning, when it costs pennies to have it at home. Try drinking filtered tap water, rather than spending $2 for bottled water. Bring your lunch to work, instead of going out. This act alone will save you between $5 and $20 per day. Over the course of a month, you can bank nearly $400.
From The Handy Personal Finance Answer Book by Paul A. Tucci, (c) 2012 Visible Ink Press(R) Answers to more than 1,000 answers to questions on personal finance, its history, and managing one's financial life.
Dig deeper with these related titles:
---