SuperHero of the Day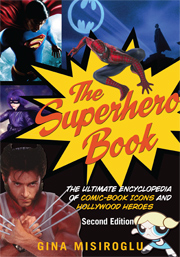 ---
What group of superheroes originated from an animal you might find in a pet store aquarium?
There are four of them, and they are all named after Renaissance artists.
A large rat named Splinter is their mentor.
They are super-awesome ninja fighters.
After encountering strange sewer sludge, they become "Heroes on the Halfshell."
---
---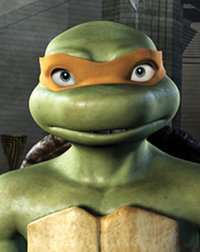 Teenage Mutant Ninja Turtles
Four turtles fall into the sewers of New York City and are befriended by Hamato Yoshi, a Japanese man who lives in this subterranean refuge. One day Yoshi encounters a strange green glow of sewer sludge, which transforms him into a giant mutant rat named Splinter and the four turtles into humanoid creatures. Master Splinter dedicates his time to teaching the skills of the ninja to the turtles, who have become superpowerful from the radioactive waste floating in the sludge, and thus the Teenage Mutant Ninja Turtles (TMNT) are born.
These "Heroes in a Halfshell," as they have fondly been called, were created by Kevin Eastman and Peter Laird, who started their self-published black-and-white comic book, Teenage Mutant Ninja Turtles, on a shoestring budget in 1984. In an off-the-wall creative session, the duo came up with the concept of a group of four turtles with a ninjitsu mentor, or sensei, whose origin story loosely parodies various elements of Marvel Comics' Daredevil. Eastman and Laird experimented with different looks for each Turtle, but finally agreed on a singular, unified costume for all. Each Ninja Turtle was named after a renowned Renaissance artist: Raphael, Donatello, Michelangelo, and Leonardo.
"When we created the Turtles, we wanted to spoof the world of superhero characters and poke good-natured fun at the heroic but not-so-funny characters that dominated the business," said Laird on the official TMNT website. "The Turtles are fun heroes with an attitude. Basically, they act and think like average teenagers." Indeed, these wisecracking, fun-loving youngsters live life as "normal" adolescents would, stepping out to battle various miscreants, in between binges on pizza and ice cream. Raphael provides the comic relief, delivering one-liners in the midst of heated battle; Donatello is resourceful and wise; Michelangelo (originally spelled "Michaelangelo") is a fun-loving, perpetual kid; and the group's de-facto leader, Leonardo, displays the heroic feats and moments of wisdom that any great leader possesses.
Though the comic's first print run was a humble 3,000 copies, within a few months, new issues were regularly being printed in quantities of 50,000 or more. Eastman and Laird's company was christened Mirage Studios, and the two set about publicizing their mutant terrapins. In a stroke of good timing, a reporter from UPI wrote a story about the Turtles that was picked up on the national wire and ran in dozens of newspapers across the country. The rest, as the say, is history. What started out as a creative fluke was parlayed into a $4.5 billion worldwide phenomenon.
Palladium Books produced a pen-and-paper role-playing game featuring the Turtles, Dark Horse Miniatures produced sets of TMNT lead figures for the role-playing gamers, and First Comics produced full-color reprint volumes of the original series. In December 1987, CBS aired the animated Teenage Mutant Ninja Turtles, which ran twelve seasons until 1996. This highly rated television series saw the Turtles facing off against Splinter's arch enemy, Shredder, a mysterious ninja clan called "the Foot," and Krang, an alien from Dimension X--all the while aiding confidante April O'Neil, a reporter for Channel 6 News.
The success of the show--and the exposure it gave the Turtles--triggered a Playmates toy line, an Archie Comics licensed comic book (which hit the stands in 1988), a daily newspaper strip (launched in 1990), and a big-screen live-action debut, with animatronic characters from Jim Henson. Teenage Mutant Ninja Turtles: The Movie debuted in theaters in 1990, followed by Teenage Mutant Ninja Turtles 2: The Secret of the Ooze (1991), and Teenage Mutant Ninja Turtles 3 (1993). In the midst of this licensing bonanza, merchandise galore appeared on retailers' shelves, including Turtles T-shirts, Halloween costumes, lunchboxes, stationery, calendars, and coffee mugs. Turtles colloquialisms like "Cowabunga" became the slogan of choice among all playground-dwelling youngsters.
In September 1997, Ninja Turtles: The Next Mutation, a live-action spin-off of TMNT, aired on Fox Kids, but lasted only one season. Though critics commented that the Turtles were mainly a merchandising phenomenon of the early 1990s, in the 2000s the band of ninja mutants made a comeback. In February 2003, the Turtles returned to television in an all-new animated series, as part of Fox's Saturday-morning lineup, supported by a Playmates action-figure line and assorted merchandise. The series moved to the CW network and continued until 2009.
The fourth Turtles movie, known simply as TMNT, came out in 2007, and was the top money-making movie in its opening weekend in the United States. Unlike the previous live action Turtles films, this one is computer-animated. Voices were provided by Sarah Michelle Gellar (Buffy the Vampire Slayer) as April O'Neil, Chris Evans (Captain America: The First Avenger) as the Turtles' ally Casey Jones, Mako as Master Splinter, Patrick Stewart (Star Trek: The Next Generation), and Laurence Fishburne as the narrator.
Turtles co-creator Peter Laird bought Kevin Eastman's share of the Turtles property in 2008, and then sold the Turtles franchise to Nickelodeon in 2009. However, Laird retained the rights to do black-and-white Turtles comics. Nickelodeon began developing a new computer-animated Teenage Mutant Ninja Turtles series, scheduled to premiere in 2012. IDW Publishing licensed the comics rights to the Mirage Turtles in 2011, and launched a new Teenage Mutant Ninja Turtles comics series in 2011, bringing them back to the medium in which they first hatched.
Dig deeper with this related title:
---