SuperHero of the Day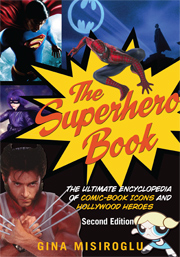 ---
This superhero comes back from the dead to avenge his murder.
In life, he was a trapeze artist at a circus.
Rama Krishna brings him back to life after he is shot.
He has the ability to enter people's bodies and take them over.
His mortal name was Boston Brand.
---
---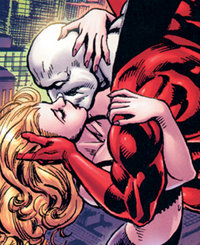 Deadman
Despite never gaining the high sales it deserved, Deadman has been one of the most influential and critically acclaimed characters in superhero comics. Deadman was conceived by maverick writer Arnold Drake in 1967 and first appeared in the pages of Strange Adventures #205, in what was to be artist Carmine Infantino's last strip before becoming editor-in-chief of DC Comics. The tale starts with the death of its star, Boston Brand, a daredevil trapeze artist assassinated by a sniper in the middle of his act. But death is not the end for Brand, as a disembodied voice (of Rama Krishna, a sort of god) tells him that to avenge his death he must roam the earth in ghostly form until he finds his killer. Unfortunately, the only clue to the killer's identity is that he has a hook on his arm, but Brand now has the convenient ability to enter people's bodies and take them over.
The strip was blessed with an unusual setting--Brand's circus with its colorful performers--an intriguing quest at its heart, and an unconventional, complex hero. Brand was an argumentative, egotistical, and somewhat self-pitying character who, despite his powers and stylish costume (as a ghost, he still wore his acrobat's red high-wire outfit, complete with white death's-head mask), was no better than the reader. In 1967, this was revolutionary content and in retrospect Brand can be seen as the first "mature" superhero. Another revolutionary factor in the strip's critical appeal was the art of Neal Adams, who took over the feature for its second installment. Adams came to the strip from the world of advertising and newspaper strips, and brought a realism to comic books that had never been seen before. He also had a gift for dynamic drawing and stylish design; Deadman was peppered with pop-art effects and witty in-jokes. In short, this was a very cool comic.
Over the next two years, Deadman roamed the country endlessly, tracking down the Hook in what was very much the comic book equivalent of the 1960s television show The Fugitive. In his travels, he came across supervillains (such as the Eagle), drug pushers, Batman, and a group of killers called the League of Assassins. The strip's complexity and depth were perhaps too much to take for most readers, and after its twelfth installment, the series was canceled. Undeterred by this, Adams went on to draw further Deadman appearances in numerous comics, including Aquaman, The Justice League, The Brave and the Bold, and Challengers of the Unknown. Editors finally revealed Deadman's killer to be an assassin in the pay of a mysterious criminal called Sensei, and the pair went on to tangle with each other throughout the 1970s.
While it is true that Deadman was then relegated to a relatively minor status, he nevertheless continued to appear in backup spots in Adventure Comics and Phantom Stranger, which were notable for their high quality. A 1986 miniseries--the first of six relaunches as of 2004--drawn by Josť Luis Garcia Lopez (Adams' talented successor on the strip), featured a final showdown with Sensei. The strip showed Deadman finally regaining his human form only to lose it again, vowing to continue his fight against evil, wherever it may appear. For a while later on in the decade, DC repositioned him as a horror character, now looking more like a living skeleton than a well-toned superhero, but recent miniseries have been very much in the intelligent, elegant tradition of Deadman's early days.
As a commercial project, the strip has never rewarded DC's continued faith in it, though the publisher has repackaged the Adams run on several occasions, as have several European publishers (the feature is highly regarded across Europe). But in introducing the concept of "serious" superhero strips, Deadman was clearly the precursor to the likes of Watchmen and The Dark Knight Returns, and it is now widely viewed as one of the key strips of the 1960s. Deadman joined the title team in the comic book series Justice League Dark, which debuted in September 2011.
Dig deeper with this related title:
---