The UFO Dossier: 100 Years of Government Secrets, Conspiracies, and Cover-Ups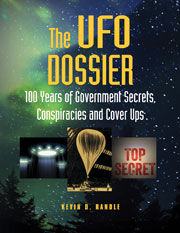 "... sets out the issues clearly, homing in on verifiable facts as he hacks through seven decades' worth of 'fake news' … Recommended as an up-to-date overview of a very convoluted subject. 4 out of 5 Stars"

Fortean Times
... well written, covers a lot of different sightings, and has some interesting analysis. ... it's a good addition to the field.

HorrorTalk.com
The UFO cover-up of by the US government and its agencies continues … Randle re-examines [government] reports … photographic evidence, reports from witnesses … and injuries … and concludes some are genuinely unexplained. He would welcome the day when the US government discloses what it knows.

NEXUS magazine
An exploration of ... unidentified flying objects and the response of authorities to these sightings and encounters … offers analysis, debunking some incidents and pointing out what remains unexplained.

VOYA
Encounters, Sightings, and Secrets Exposed
Is the government hiding facts or is it merely incompetent? Are witnesses to be believed? Exposing plots, cover-ups, misleading statements, and documented connections to government intrigue—as well as hoaxes and problematic authentications—The UFO Dossier: 100 Years of Government Secrets, Conspiracies, and Cover-Ups follows the facts wherever they lead. It takes an objective look at evidence for alien life and UFOs.
The government has long been collecting information and assembling files on unidentified objects, extraterrestrial encounters, and strange convergences in the skies. Following clues and digging into the files of the CIA, the FBI, the FAA, NASA, the Army, Navy, Air Force, and other U.S. government and international agencies, The UFO Dossier scrutinizes the evidence and interpretations of UFO findings. It investigates more than 60 mysteries, including the complete COMETA report, asteroids, meteors, photographic evidence, injuries, burns, temporary paralysis, lights in the night sky, and more.
A leading UFO expert and an authority on the government's reporting on unexplained phenomena, the author analyzes documents, scours government databases, interviews witnesses, and unearths details on UFOs, mysterious crashes, sightings, encounters, and related phenomena. He uncovers the federal government's search for alien life, its investigations into encounters, and its denials, misrepresentations, incompetence, and potential malfeasance, as well as the more benign explanations.
E-mail to a Friend
Quick Facts
ISBN: 9781578595648
PDF ISBN: 9781578595808
Kindle ISBN: 9781578595822
ePUB ISBN: 9781578595815
432 pages
120 photos and illustrations
7.125 x 9.25 paperback
$29.95
Related Titles
You might also enjoy...
Also by Kevin D Randle...
---
---