The Handy Psychology Answer Book, Second Edition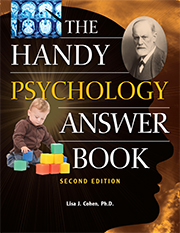 Bridges the divide between the pop psychology discussed on television talk shows and in magazines, which is often driven more by the entertainment value of the topics than the science behind them, and academic research that is published in journals, in language that is inaccessible to the average person. Highly recommended.

Choice
By introducing fun facts with history of psychology, as well as answering questions on how psychology applies to everyday issues, Dr. Cohen delivers a fascinating guide to a general audience. Recommended.

Christian Library Journal
Using language a cut above today's on-air pop psychology but mercifully free of jargon, The Handy Psychology Answer Book uses knowledge gained from psychology to answer these and nearly 1,000 other questions.

Einstein Magazine
... This well-named reference offers pithy peeks into the many facets of the human psyche.

Library Journal
A field guide to psychology! Move over Dr. Phil and Dr. Laura and make way for the "serious science" of psychology. This book brings a scientific perspective to psychology but at the same time presents the life questions and our responses to them in a way that is understandable.

National Science Teachers Association Recommends
Offering a conversational writing style … answers about 1,300 common questions regarding psychology. … This second edition reflects the latest research and the latest DSM standards.

Protoview Book News
With The Handy Psychology Answer Book, Cohen has made psychology topics accessible and interesting. ... easy to read, easy to understand, applicable to everyday life, ... It is a general overview of the field and the topics of psychology.

PsychCentral.com
The book excels in explaining human behavior. Whether it be the beginner student with an interest in psychology or the well-experienced psychiatrist, anyone is sure to find something intriguing. Dr. Cohen succeeds in her mission of advancing the accessibility of psychology.

The Residents' Journal
… a comprehensive guide to the science of psychology. … The author meticulously explains definitions of terms, as well as walks readers through the natural progression of psychological processes. … informative and succinct, making the book a quick and easy reference tool. … a useful resource to educators, librarians, and readers interested in learning about the brain and its impact on human behavior.

VOYA
Nobody thinks psychology and psychiatry are simple ... you could go to The Handy Psychology Answer Book and read the simple, useful explanation ... The book is sensibly organized, but there's also an exhaustive index, making it easy to look into whatever comes to mind.

Washington Post
A practical, accessible, and engaging guide to the world of psychology.
Not long ago, famous psychologists such as Freud, Jung, Adler, and Erickson were known to almost everyone, and basic psychological concepts permeated the popular culture. Today, politicians, celebrities, and social media are noisy with advice. Psychology has become either "pop psychology" that seeks to entertain and inspire, or it's found in academic science read by few outside the mental health community. But The Handy Psychology Answer Book seeks to inform readers with accurate data written in a lively, accessible, and engaging way. It bridges the gap by taking you on a journey through the history and science of psychology and showing how psychology affects us all.
Fully revised to reflect the latest scientific research and greatly expanded to more than 1,500 answers to questions concerning how the human mind and the science of psychology really work, this fascinating guide delivers the real facts of modern psychology, along with fun factoids and thought-provoking insights into what motivates human behavior. This intriguing exploration provides insights into the current science of the mind by answering questions such as How have other cultures addressed psychological issues? Why was Freud so focused on sex? How do twin studies help illuminate the role of genetics? How can I maintain a healthy brain? How have recent changes in technology affected adolescent development? Is it normal to argue during marriage? Does religion make people happier? Why do so many politicians get trapped in scandals? and Does genetics play a role in voting behavior? It also includes a complete reference sources for topics discussed and a thorough index to add to its usefulness.
E-mail to a Friend
Quick Facts
ISBN: 9781578595082
PDF ISBN: 9781578595983
Kindle ISBN: 9781578596003
ePUB ISBN: 9781578595990
544 pages
7.125 x 9.25 paperback
$44.95
Related Titles
You might also enjoy...
Author Websites
---
---