The Handy Forensic Science Answer Book: Reading Clues at the Crime Scene, Crime Lab, and in Court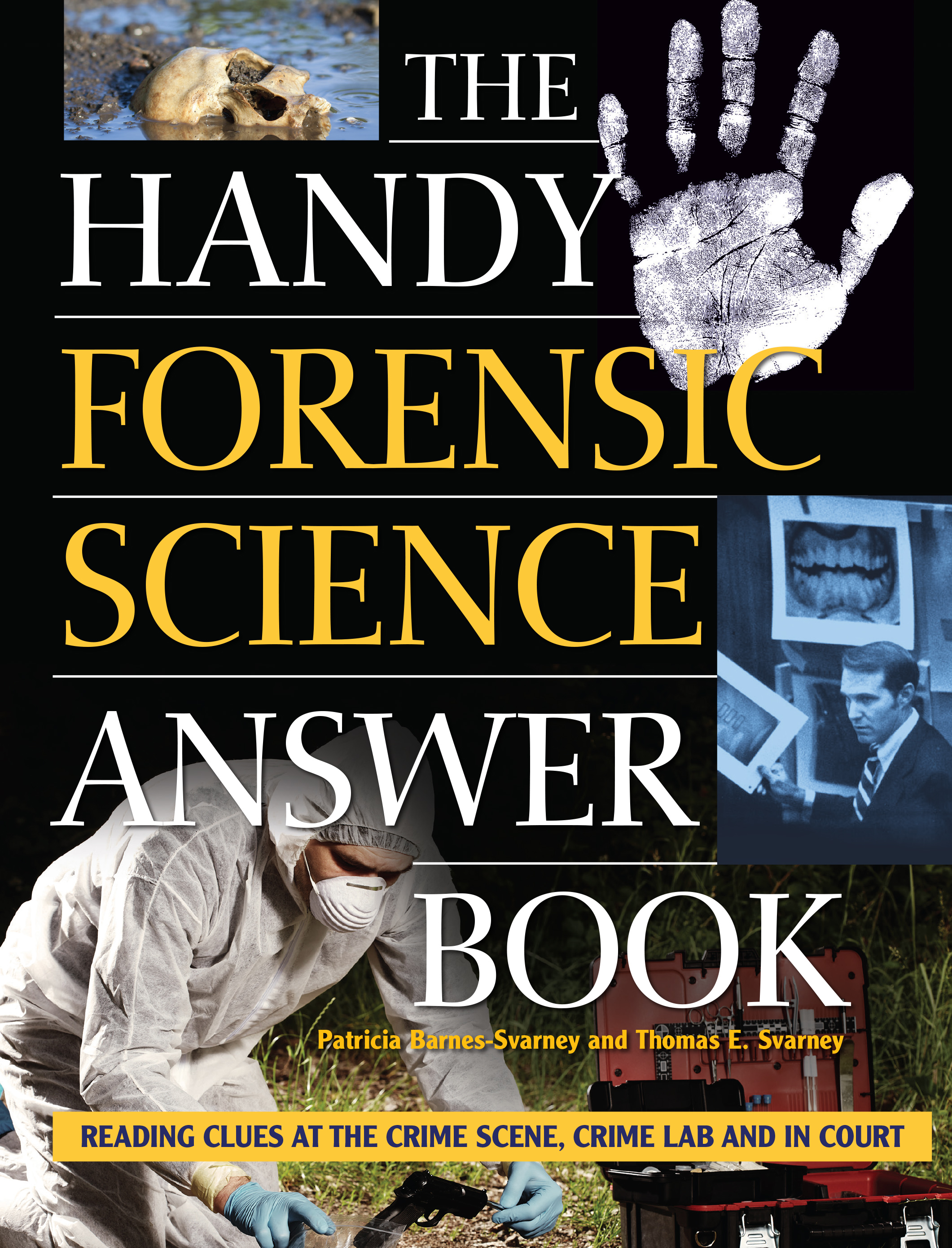 For the armchair detective or CSI fan, "The Handy Forensic Science Answer Book" by Patricia Barnes-Svarney and Thomas E. Svarney will be a welcome gift this year. In a Q&A format, this book teaches and answers the kinds of questions any detective-show fan can come up with. It may also chill you … .

Bookworm Sez
★ Starred Review. Full of fun facts ... will enthrall high school and college students investigating potential career paths as well as inquisitive general readers.

Library Journal
Best Reference Titles of 2018

Library Journal
… answer(s) about 950 questions about forensic science, in relation to its definition, terms, and disciplines; history; the crime scene and investigation; biological and physical evidence; autopsies; analyzing older remains; trace evidence; patent, latent, and plastic prints; tool marks, firearms, and ballistics; examining explosives; questioned documents and cryptanalysis; other forensic investigations, such as arson, bioterrorism, and accident scenes; forensic psychology and psychiatry; the use of forensic science in the courts; controversies; famous crimes and forensic science; the media and forensic science; and resources in the subject area.

Protoview Book News
Blood, ballistics, and bodies.
Fibers, fingerprints, and facial reconstruction. Forensic science, criminal investigations, the art of uncovering and analyzing clues can be exciting, challenging, and sometimes controversial. Covering the fundamentals, the science, history, latest research, and techniques,
The Handy Forensic Science Answer Book
provides a fascinating look at the science of law enforcement and how even the smallest clues can yield useful information. From the cause, manner, and time of a death found in autopsies to blood, toxicology, DNA typing, fingerprints, ballistics, toolmarks, tread impressions, trace evidence, and criminal profiling, it scrutinizes how evidence is gathered, processed, analyzed, and viewed before the case heads to the courtroom.
Investigating the various branches of forensic science from forensic accounting and anthropology to forensic psychology and toxicology, this handy primer looks at murder, arson, accidents, computer fraud, and all manner of criminal activities. It gives real-world examples and explains what Hollywood gets right and wrong. It provides the history of the science, and it introduces the scientists behind breakthroughs. An easy-to-use and informative reference, this book brings the complexity of a criminal investigation into focus and provides well-researched answers to over 950 common questions, such as ...
Where did "9-1-1" originate?
How are bloodstain splatters categorized?
What is a general time sequence of body decomposition?
How long do traces of drugs last in the body?
Can a person tamper with dental records?
What is the National Missing and Unidentified Persons System?
What is facial reconstruction?
Can certain skull traits help determine the ancestry of unidentified remains?
How do human male and female body hairs differ?
How are fibers analyzed in the crime lab?
Why is nonvisible gunshot residue often challenged as evidence?
How long does DNA last outside the body?
How is "insanity" defined in a criminal case?
When was criminal profiling first used?
Why are eyewitness accounts not always reliable?
Why do some people still doubt the death of Adolf Hitler?
Does any evidence exist that crime shows have influenced criminals?
Providing the facts, stats, history, and science, The Handy Forensic Science Answer Book answers intriguing questions about criminal investigations. With more than 120 photos and illustrations, this informative book also includes a helpful bibliography, glossary of terms, and an extensive index, adding to its usefulness.
E-mail to a Friend
Quick Facts
ISBN: 9781578596218
eBook ISBN: 9781578596812
384 pages
140 photos and illustrations
7-1/8 x 9-1/4 paperback
$39.95
Related Titles
You might also enjoy...
Also by Patricia Barnes-Svarney...
Also by Thomas E Svarney...
---
---