The Handy Military History Answer Book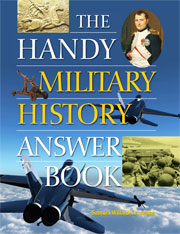 ...will fill in the blanks for anything you don't already know about our armed forces and that of other countries.

Bookworm Sez
... There is a great deal of information here … a military buff will most likely find this a captivating read ...

Library Journal
... an excellent reference with short, digestible answers and surprising trivia for military historians of any level.

Military History
Although the work is not specifically marketed to teens, the content is quite suitable for ... the "sound bite generation."

VOYA
Clashes, Carnage, and Courage
War, warriors, and weapons. Politics, power, and persuasion. Fighting between tribes, clans, groups, and countries has been with us since the beginning of recorded time. The causes of war are often complex and rarely straightforward. Turbulent events, powerful leaders, or economic, political, social, and technological upheavals have all contributed to the formation of countries, demise of governments, and the mass movement of people.
The Handy Military History Answer Book explores the pivotal moments of the past and the people who have influenced battles, wars, and history. It explains the genius and folly of leaders. It examines the weapons and strategies that determined the outcomes of combat, and it looks at how warfare shaped national borders, societies, politics, cultures, and the future. Blending historical review with some surprising trivia into an engaging question-and-answer format, it answers more than 1,400 questions, including How great—and how ruthless—was Caesar? Was Napoleon really not French? Was the American Civil War inevitable? How did Hitler parlay a five-year prison sentence into celebrity and success? Where did the name "Uncle Sam" come from? Where was the world's first submarine deployed? What role has technology—such as the Internet—played in warfare?
From conquering armies to civil wars and from the sword and chariot to modern weaponry, guerrilla warfare, and terrorism, this book investigates everything from the smallest miscalculations to the biggest invasions, as well as the cutting-edge technologies and firepower that led to victories, set the political boundaries of today, and changed the world.
E-mail to a Friend
Quick Facts
ISBN: 9781578595099
PDF ISBN: 9781578595495
Kindle ISBN: 9781578595518
ePUB ISBN: 9781578595501
560 pages
150 photos and illustrations
7.125 x 9.25 paperback
$54.95
Related Titles
You might also enjoy...
Also by Samuel Willard Crompton...
---
---