Native American Almanac: More Than 50,000 Years of the Cultures and Histories of Indigenous Peoples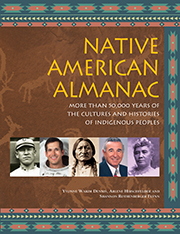 ... succeeds simply by conveying the legitimacy and distinctiveness of hundreds of nations, their cultures, their languages, and more. Recommended ...

Booklist
Highly Recommended. Though there are many reference works relating to Native Americans, one is hard pressed to find a more comprehensive, affordable text written with such understanding and sensitivity to Native American indigeneity—a reflection of the authors' cumulative decades of research and writing and in-depth experience of Native history, culture, and affairs.

Choice
The subtitle suggests the inclusive scope of this magisterial volume ...

Chronogram
... a general resource, a look at the people and cultures of America's indigenous peoples, both past and present.

Denver Post
This is a book that belongs in every Indian education program.

IC Magazine: A Publication of the Center for World Indigenous Studies
...provides a solid beginning for students as well as general readers with no background in Native American studies.

Library Journal
... a sweeping historical overview of Native communities ... provides a wealth of information about all aspects of Native American life.

New York Journal of Books
… the most comprehensive, affordable, one-volume reference on Native American people, covering Native American history, contemporary culture, important events and figures, languages, arts, and much more. …

Protoview Book News
... the most comprehensive, the most affordable, one-volume reference on Native American history, the people and the nations who helped make our nation.

SirReadALot.org
... hefty softcover resource presents an overview of the many indigenous nations, tribes, language groups, and cultures ... accessible for teens and for general audiences as a modestly-priced, strong, one-volume introduction to the topic, or as a starting point for further research.

VOYA
The impact of early encounters, past policies, treaties, wars, and prejudices toward America's Indigenous peoples is a legacy that continues to mark America.
The history of the United States and Native Americans are intertwined. Agriculture, place names, and language have all been influenced by Native American culture. The stories and history of pre- and post-colonial Tribal Nations and peoples continue to resonate and informs the geographical boundaries, laws, language and modern life.
From ancient rock drawings to today's urban living, the Native American Almanac: More Than 50,000 Years of the Cultures and Histories of Indigenous Peoples traces the rich heritage of indigenous people. It is a fascinating mix of biography, pre-contact and post-contact history, current events, Tribal Nations' histories, enlightening insights on environmental and land issues, arts, treaties, languages, education, movements, and more. Ten regional chapters, including urban living, cover the narrative history, the communities, land, environment, important figures, and backgrounds of each area's Tribal Nations and peoples. The stories of 345 Tribal Nations, biographies of 400 influential figures in all walks of life, Native American firsts, awards, and statistics are covered. Over 300 photographs and illustrations bring the text to life.
The most complete and affordable single-volume reference work about Native American culture available today, the Native American Almanac is a unique and valuable resource devoted to illustrating, demystifying, and celebrating the moving, sometimes difficult, and often lost history of the indigenous people of America. Capturing the stories and voices of the American Indian of yesterday and today, it provides a range of information on Native American history, society, and culture.
E-mail to a Friend
Quick Facts
ISBN: 9781578595075
PDF ISBN: 9781578596072
Kindle ISBN: 9781578596096
ePUB ISBN: 9781578596089
656 pages
300 photos, illustrations and maps
7.125 x 9.25 paperback
$24.95
Related Titles
You might also enjoy...
Also by Yvonne Wakim Dennis...
Also by Arlene Hirschfelder...
---
---