African American Almanac: 400 Years of Triumph, Courage and Excellence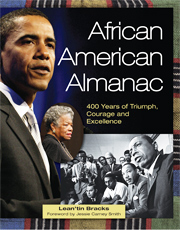 A one of a kind fantastic book of reference.... It renders a profound look at history by way of the African American experience.

Birmingham Times
This excellent reference work on the contributions of African-Americans to the history and culture of the United States provides accessible reference and biographical information on a wide range of important events and people.

Book News
Starred Review: affordable, concise, and overall first-rate resource....

Booklist
Booklist Editors' Choice: Reference Sources, 2012

Booklist
Bracks impressive work is clearly for the educated lay-person, curious researcher, or studious scholar. Bracks has done well in presenting a fair account of the topics, making this an obvious addition to high school and college libraries everywhere

Children's Literature
Through historical overviews and hundreds of biographies, Bracks thoughtfully illuminates "a legacy of pride, struggle, and triumph" that is part of the black experience in the US.

Choice
Celebrating centuries of achievements, the African American Almanac provides insights on the influence, inspiration, and impact of African Americans on U.S. society and culture.

Denver Urban Spectrum
excellent overview of African American contributions to the United States

Library Journal
This almanac highlights the considerable contributions African Americans have made to the fabric of U.S. society and culture. Perhaps most inspiring about this collection is that it also features the lives of lesser known leaders, artists, and political figures who may have been forgotten if it were not for their inclusion.

The Children's Book Review
A wealth of milestones, inspiration, and challenges met.
. .

The most complete and affordable single-volume reference of African American culture available today, this almanac is a unique and valuable resource devoted to illustrating and demystifying the moving, difficult, and often lost history of black life in America. A legacy of pride, struggle, and triumph spanning more than 400 years is presented through a fascinating mix of biographies—including more than 750 influential figures—little-known or misunderstood historical facts, enlightening essays on significant legislation and movements, and 445 photographs and illustrations. Covering events surrounding the civil rights movement; African American literature, art, and music; religion within the black community; and advances in science and medicine, this reference connects history to the issues currently facing the African American community and provides a range of information on society and culture.
E-mail to a Friend
Quick Facts
ISBN: 9781578593231
PDF ISBN: 9781578593828
Kindle ISBN: 9781578593811
ePUB ISBN: 9781578593804
560 pages
7.25" x 9.25" paperback
$29.95
Related Titles
You might also enjoy...
---
---