The Handy Communication Answer Book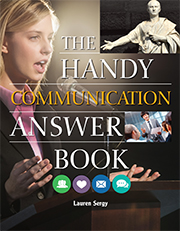 … covers general and practical usage information about writing, public speaking, communication within specific and academic circles, and equipment and technology. … succinct and accurate … especially helpful to public library patrons.

Library Journal
Best Reference Titles of 2017 [Covers] all forms of communication (writing, public speaking, social media, etc.) ... user-friendly guide ... explores real-world examples of the topic, such as Secretary Hillary Clinton's use of a private email server and President Donald Trump's reliance on social media, and, of particular note, offers a selection of 13 sample speeches and a debate, plus analyses.

Library Journal
… explains the basic history of the concept of communication and offers advice and tips …

Protoview Book News
Messages, Connections, and Communication
Writing. Listening. Negotiating. Reporting. Networking. Public Speaking. Whether it's for a professional presentation, a school paper, an Internet blog or video, or something more personal, The Handy Communication Answer Book explains the concepts, provides insights, shares advice, and examines the skills needed to master effective and efficient communication for every setting and occasion.
A convenient place to go to look up the basic facts and learn fundamental skills, this useful primer takes an engaging look at the history, skills, and pitfalls of communicating in various settings, circumstances, and for specific reasons. It will leave anyone with a better understanding of how to create persuasive arguments, project power and authority with voice and body language, avoid conflicts and clichés, or use rhetorical questions to convey a meaning, check for tone in an email, and much, much more.
Comprehensive and easy-to-use, The Handy Communication Answer Book brings the intricacies of speaking, writing, listening, and reading into focus through well-researched answers to nearly 800 intriguing communication questions and fun facts, such as When did writing develop? What is oral tradition? Why are people more aggressive when communicating online? How does a writer's "voice" or style come through in a text? Why are the IKEA assembly instructions genius? What are some common symptoms of public speaking anxiety? Why was Steve Jobs a significant modern speaker? What is a story arc? How can I politely disagree with a coworker or superior?
E-mail to a Friend
Quick Facts
ISBN: 9781578595877
PDF ISBN: 9781578596515
Kindle ISBN: 9781578596539
ePUB ISBN: 9781578596522
416 pages
140 photos and illustrations
7-1/8 x 9-1/4 paperback
$44.95
Related Titles
You might also enjoy...
---
---