The Disaster Survival Guide: How to Prepare For and Survive Floods, Fires, Earthquakes and More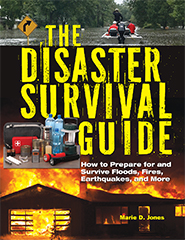 This book appears to be a sign of the times. … the quintessential survival guide for many, many different life-threatening situations … well rounded and extensively researched and prepared volume of encyclopedic proportions.

Alternative Perceptions Magazine
… extremely comprehensive … Readers are guaranteed to learn something new to help them survive all kinds of arduous situations.

Booklist
"The Disaster Survival Guide" by Marie D. Jones, a book that's a good primer for coming out the other side of nature's worst and mankind's unthinkable.

Bookworm Sez
Jones, an author who is trained in disaster response/preparedness, shows readers how to prepare for and survive disasters ...

Protoview Book News
... provides insights into how to react and respond when disaster does strike

SirReadALot.org
Hurricanes.
Tornadoes. Floods. Wildfires. Earthquakes. Epidemics. Droughts. Landslides. Trillions of dollars in damages. Billions of people affected. Terrorist attacks. Gas explosions. Bridge collapses. Car, train, and plane crashes. These sudden and unexpected events make it feel as if chaos rules the world, but expecting the unexpected can mitigate the damage and loss to you and your loved ones. It pays to be prepared. When catastrophe strikes, no matter how big or small, being ready and knowing how to respond can be the difference between the loss of life and survival.
The Disaster Survival Guide: How to Prepare For and Surviving Floods, Fires, Earthquakes and More shows how to prepare and respond to any crisis, man-made or natural, wherever it might occur and however small or large it might be. Using what has been learned from previous disasters, this indispensable book illustrates how others survived past crises. Just as important as learning how to survive the worst is learning how to survive everyday emergencies ranging from bee stings, snakebites, and allergic reactions to house fires, gas explosions, and more. It's all important, and it's all in this comprehensive guide.
Covering the basics needs from food, water and first aid to shelter, security, and self-defense, this informative guide walks readers through the steps it takes to create their own personal emergency action plan. It provides a catalog of the skills, tools, and items needed to endure and overcome a variety of situations and circumstances. It pinpoints hazards unique to different terrains, locations, situations, and settings, too, and it helps to identify and understand possible threats.
Furthermore, the guide provides insights into how to react and respond when disaster does strike. Critical decisions faced during an emergency are considered: whether to stay or to go, where to go, how to stay informed, and more. Truly essential, this comprehensive guide takes a clear-eyed look at what to do should the worst happen.
E-mail to a Friend
Quick Facts
ISBN: 9781578596737
eBook ISBN: 9781578596850
432 pages
7-1/8 x 9-1/4 paperback
$29.95
Related Titles
You might also enjoy...
Also by Marie D Jones...
---
---