Celebrity Ghosts and Notorious Hauntings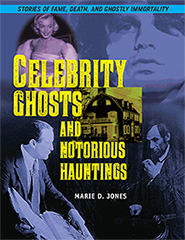 … comprehensive and thorough, not to mention very entertaining … more than 200 riveting true accounts of historical ghosts and hauntings … abundant spooky spine-chilling tales … With Halloween fast approaching, it makes for the perfect gift.

Alternative Perceptions Magazine
… an absolute masterpiece … Marie D. Jones really outdid herself … This is definitely one for your personal library! A great research book!

Halo Paranormal Investigations
... those intrigued by the supernatural will enjoy … A solid introduction to the idea of ghosts and hauntings, for those with a serious interest in the paranormal.

Library Journal
… We absolutely love this book. … earns its rightful place in our paranormal library. Very highly recommended!

Nonhuman Research Agency
… recounts hauntings that involves celebrities and well-known people and locations, as well as famous people who have seen or experienced ghosts. …

Protoview Book News
… an entertaining exploration of celebrity and other famous ghost sightings. … well-researched guide will be a treasure trove for amateur ghost hunters.

Publishers Weekly
Stories of Fame, Death and Ghostly Immortality ...
Even the most famous stars sometimes come back as infamous ghosts and apparitions. Whether they be old Hollywood silent film stars, modern rock stars, top athletes, past presidents, or famous generals, celebrated individuals sometimes become celebrity ghosts, and they haunt their homes, workplaces, and even burial grounds. In turn, those places become famous, even notorious, in themselves thanks to the ghosts haunting them!
Dissecting Hollywood's cursed and tormented departed, Celebrity Ghosts and Notorious Hauntings documents the many hauntings that involve celebrities and well-known people and locations, including those deemed more "notorious" than famous (think Lizzie Borden and her penchant for axes, or the hotel horror author Stephen King based The Shining on, or ghosts of executed murderers and serial killers). There is also the deaths and curse surrounding The Matrix, the infamous Stage 28 at Universal Studios, and Paramount Studios' long history of hauntings and strange goings-on. Coverage is rounded out with riveting tales of haunted libraries, courthouses, ships, submarines, lighthouses, hotels, roadways, byways, bridges, prisons, and hospitals.
Chronicling their immortal fame, Celebrity Ghosts and Notorious Hauntings looks at the demises and often chilling afterlives of some of the past's biggest stars, including Elvis Presley, John Lennon, Frank Sinatra, Abraham Lincoln, Andrew Jackson, Henry VIII, Sir Walter Raleigh, Rudolph Valentino, Jim Morrison, Marilyn Monroe, Johnny Horton, Jean Harlow, Houdini, Redd Foxx, Janis Joplin, Hank Williams, Jimi Hendrix, George Reeves, Ted Bundy, and many more. They all hide within these pages. Plus, the ghostly encounters described by the famous also get their stories told, such as those visited on Peter Jackson, Miley Cyrus, Guillermo del Toro, Carrie Fisher, Lady Gaga, Ariana Grande, Sting, and Keanu Reeves. In all, more than 200 ghosts, visitations, encounters, communications, locations, and hauntings are recounted.
The rich, the famous, the glamorous, the dead are all lurking in Celebrity Ghosts and Notorious Hauntings! It provides gripping details on the sometimes lurid and seamy side of fame and death. With more than 140 photos and graphics, it is richly illustrated. Its helpful bibliography and extensive index add to its usefulness.
E-mail to a Friend
Quick Facts
ISBN: 9781578596898
eBook ISBN: 9781578597017
432 pages
120 photos and illustrations
7-1/8 x 9-1/4 paperback
$24.95
Related Titles
You might also enjoy...
Also by Marie D Jones...
---
---