Werewolf Fact of the Day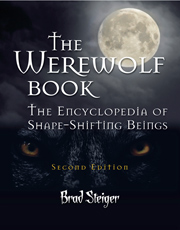 ---
What planet is linked with werewolves?
It, along with Saturn, is considered malefic.
It is linked with a god of hostility and war.
This god was later considered a horned "Master of Animals."
Christian astrologists considered anyone with this sign to be susceptible to demonic influences.
---
---
Mars
Mars and Saturn are the two planets in astrological tradition that are considered "malefic." Mars, like the Roman god of the same name (the god Ares to the ancient Greeks), is representative of violent energy, aggressiveness, destruction, hostility, and war. According to astrological determinations, when Mars and Saturn achieve significant relationships in the heavens, bad things are certain to occur on Earth. A conjunction of Jupiter, the planet of health, with Mars and Saturn in the sign of Aquarius in 1345 heralded the onset of the Black Death that decimated Europe. The conjunction of Mars and Saturn in Pisces in 1496 marked the appearance of syphilis on the European continent.
In the Middle Ages, Christian scholars interpreting astrological symbols deemed those with Mars in their sign to be highly susceptible to demonic influences. When the god Mars later became equated by the Romans with the Master of Animals, the horned god of the North, he is also identified as Silvanus, a woodland god, very much like Pan. The Horned God became synonymous with Satan in the eyes of the Church Fathers, the god of the Witches, werewolves, and other shape-shifters.
From The Werewolf Book: The Encyclopedia of Shape-Shifting Beings, Second Edition by Brad Steiger, (c) 2012 Visible Ink Press(R) Steiger's homage to the beast within provides meaty facts for the lycanthropic in all of us.
Dig deeper with these related titles:
The Werewolf Book: The Encyclopedia of Shape-Shifting Beings, Second Edition


When Darkness Reigns and the Full Moon Glows, Terror Emerges to Stalk the Unsuspecting… Read More »

The Vampire Book: The Encyclopedia of the Undead, Third Edition


The Ultimate Collection of Vampire Facts and Fiction Death and immortality, sexual prowess and surrender, intimacy and... Read More »

Real Monsters, Gruesome Critters, and Beasts from the Darkside


Beware! Monsters are Everywhere Monsters have been spotted everywhere, not just slithering under a child's bed or lurking in... Read More »

Unexplained! Strange Sightings, Incredible Occurrences, and Puzzling Physical Phenomena, 2nd Edition


The truth is out there, but looking for it is the real fun. Now, countless X-philes and insatiable fans of the supernatural, occult, and UFOs can... Read More »

Real Zombies, the Living Dead, and Creatures of the Apocalypse


The macabre secret history of the undead . . . Featuring 30 chilling stories of real life zombie encounters, this comprehensive and... Read More »

Real Vampires, Night Stalkers, and Creatures from the Darkside


Not only do vampires exist, they walk among us! Paranormal researcher extraordinaire, Brad Steiger, reveals that real vampires are not immortal, do... Read More »
---