Werewolf Fact of the Day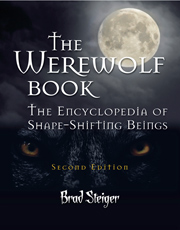 ---
What 1982 music video was inspired by An American Werewolf in London?
The title album sold nearly 109 million copies, and became best-selling album.
The artist contacted An American Werewolf in London's director to shoot the video.
The artist had to include a disclaimer that, due to his religious beliefs, he did not endorse the occult.
The choreography became famous, and is remembered by many.
---
---
"Thriller" (song, 1982)
Michael Jackson's Thriller album (1982) produced by CBS Records has sold nearly 109 million copies and has become the best-selling album in the world. The music video of its title song has been hailed as a small masterpiece, complete with Jackson's lycanthropic transformation into a cat-eyed creature and his fabled footwork with a graveyard full of marvelously choreographed dancing corpses. Far from ordinary in any sense of the word, the Thriller video is fourteen-minutes in length and was produced at a reported cost of nearly a million dollars. And yet in spite of all the expense, exhaustive efforts, and excellent production values, the video came close to never being released. Jackson, a devout Jehovah's Witness, became upset when church elders accused him of producing a video that could encourage young people to explore the occult and to fall under the control of demonic entities. Through some persuasive counsel by trusted advisors, Jackson finally agreed to release the video as long as it bore the following disclaimer: "Due to my strong personal convictions, I wish to stress that this film in no way endorses a belief in the occult."
The concept for the video was first born in Michael Jackson's highly creative psyche when he saw and enjoyed An American Werewolf in London (1981). He subsequently contacted John Landis, the film's writer/director, and Rick Baker, the makeup, special effects genius, to develop the title song video for his Thriller album. After Landis and Baker had participated in a number of conferences with Jackson and were impressed with the extravagance and the scope of the project, they assumed that they were working with a true horror movie buff. Later, they were astonished to learn that certainly was not the case. In fact, Jackson admitted that the only horror films that he had ever seen were An American Werewolf in London, The Hunchback of Notre Dame (1939), and The Elephant Man (1980).
From The Werewolf Book: The Encyclopedia of Shape-Shifting Beings, Second Edition by Brad Steiger, (c) 2012 Visible Ink Press(R) Steiger's homage to the beast within provides meaty facts for the lycanthropic in all of us.
Dig deeper with these related titles:
The Werewolf Book: The Encyclopedia of Shape-Shifting Beings, Second Edition


When Darkness Reigns and the Full Moon Glows, Terror Emerges to Stalk the Unsuspecting… Read More »

The Vampire Book: The Encyclopedia of the Undead, Third Edition


The Ultimate Collection of Vampire Facts and Fiction Death and immortality, sexual prowess and surrender, intimacy and... Read More »

Real Monsters, Gruesome Critters, and Beasts from the Darkside


Beware! Monsters are Everywhere Monsters have been spotted everywhere, not just slithering under a child's bed or lurking in... Read More »

Unexplained! Strange Sightings, Incredible Occurrences, and Puzzling Physical Phenomena, 2nd Edition


The truth is out there, but looking for it is the real fun. Now, countless X-philes and insatiable fans of the supernatural, occult, and UFOs can... Read More »

Real Zombies, the Living Dead, and Creatures of the Apocalypse


The macabre secret history of the undead . . . Featuring 30 chilling stories of real life zombie encounters, this comprehensive and... Read More »

Real Vampires, Night Stalkers, and Creatures from the Darkside


Not only do vampires exist, they walk among us! Paranormal researcher extraordinaire, Brad Steiger, reveals that real vampires are not immortal, do... Read More »
---