Werewolf Fact of the Day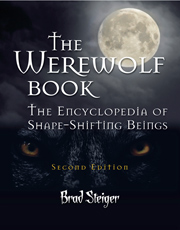 ---
What herb was believed to both cause and cure werewolves?
It is also called Aconitum papellus.
It can be used as a pain reliever.
It is extremely poisonous, and requires great medicinal skill to spply.
It helped link botanically-gifted witches with werewolves.
---
---
Wolfsbane
Aconitum napellus, a type of wolfsbane, contains a poison called aconite that, if used carefully in lower dosages can also be a pain reliever. It could possibly also cause hallucinations that convince the patient he or she is a werewolf.
If applied in fatal dosages, wolfsbane would truly repel a werewolf or any other physical being, for it is extremely poisonous. Perennial herbs of the buttercup family (Ranunculaceae) are divided into two genera: Aconitum and Eranthis. The flowering Aconitum branch, which includes wolfsbane or monkshood, is the deadly one for it exudes the substance aconite. In Nepal, where the most poisonous variety grows, warriors used the flower to tip their arrows or to turn their enemies' wells into lethal water supplies.
In the skillful, caring hands of an herbalist, however, proper dosages of wolfsbane can be a very effective pain-reliever or a tonic. Since so many of the Witches of the Middle Ages were accomplished herbalists, it is easy to assume that they knew well how to apply wolfsbane for curative or destructive purposes. While the fabled ointment that could transform the sorcerer into a werewolf is sometimes thought to be wolfsbane, the potion would need to be mixed with extreme care or certain death would have resulted. It is possible, of course, that the correct proportions could have created a hallucinogenic effect that might have caused the initiate to believe that he had shape-shifted into a wolf.
From The Werewolf Book: The Encyclopedia of Shape-Shifting Beings, Second Edition by Brad Steiger, (c) 2012 Visible Ink Press(R) Steiger's homage to the beast within provides meaty facts for the lycanthropic in all of us.
Dig deeper with these related titles:
The Werewolf Book: The Encyclopedia of Shape-Shifting Beings, Second Edition


When Darkness Reigns and the Full Moon Glows, Terror Emerges to Stalk the Unsuspecting… Read More »

The Vampire Book: The Encyclopedia of the Undead, Third Edition


The Ultimate Collection of Vampire Facts and Fiction Death and immortality, sexual prowess and surrender, intimacy and... Read More »

Real Monsters, Gruesome Critters, and Beasts from the Darkside


Beware! Monsters are Everywhere Monsters have been spotted everywhere, not just slithering under a child's bed or lurking in... Read More »

Unexplained! Strange Sightings, Incredible Occurrences, and Puzzling Physical Phenomena, 2nd Edition


The truth is out there, but looking for it is the real fun. Now, countless X-philes and insatiable fans of the supernatural, occult, and UFOs can... Read More »

Real Zombies, the Living Dead, and Creatures of the Apocalypse


The macabre secret history of the undead . . . Featuring 30 chilling stories of real life zombie encounters, this comprehensive and... Read More »

Real Vampires, Night Stalkers, and Creatures from the Darkside


Not only do vampires exist, they walk among us! Paranormal researcher extraordinaire, Brad Steiger, reveals that real vampires are not immortal, do... Read More »
---