African American Hero of the Day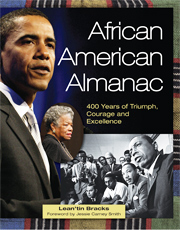 ---
Who became a famous defendant in an 1857 U.S. Supreme Court case involving the Fugitive Slave Act?
After his first master died, his second master, John Emerson, moved him from Missouri to the free state of Illinois.
He was born in Southampton, Virginia, in 1795.
He worked variously as a handyman, farmhand, and dock worker.
While he did not win his case for freedom, the challenge to slave laws led to the end of the Missouri Compromise of 1820 that allowed the expansion of slavery into free states.
---
---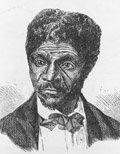 Dred Scott (1795-1858)
Slave
Born in Southampton, Virginia, his first name was simply "Sam." He worked as a farmhand, handyman, and dockworker, and moved with his master to Huntsville, Alabama, and later to St. Louis, Missouri. In 1831 his owner, Peter Blow, died, and he was bought by John Emerson, a surgeon in the U.S. Army. Sam accompanied his new master to Illinois (a free state) and Wisconsin (a territory). Sometime after 1836 he received permission to marry, and by 1848 he had changed his name to Dred Scott. At various times he attempted to buy his freedom or escape but was unsuccessful. In 1843 Emerson died and left his estate to his widow Irene Emerson, who also refused Scott his freedom. He then obtained the assistance of two attorneys who helped him to sue for his freedom in county court.
Scott lost this case, but the verdict was set aside, and in 1847 he won a second trial on the grounds that his slave status had been nullified upon entering into a free state. Scott received financial backing and legal representation through the sons of Peter Blow, Irene Emerson's brother John Sanford, and her second husband Dr. C.C. Chaffee, all of whom apparently saw the case as an important challenge to slavery. In 1857 the U.S. Supreme Court ruled against Scott, stating that slaves were not legally citizens of the United States and therefore had no standing in the courts. Shortly after the decision was handed down Mrs. Emerson freed Scott. The case led to the nullification of the Missouri Compromise of 1820, allowing the expansion of slavery into formerly free territories. Scott died from tuberculosis in 1858.
From African American Almanac: 400 Years of Triumph, Courage and Excellence by Lean'tin Bracks, (c) 2012 Visible Ink Press(R). A wealth of milestones, inspiration, and challenges met . . .
Dig deeper with these related titles:
African American Almanac: 400 Years of Triumph, Courage and Excellence


A wealth of milestones, inspiration, and challenges met. . . The most complete and affordable single-volume reference of African... Read More »

Freedom Facts and Firsts: 400 Years of the African American Civil Rights Experience


Spanning nearly 400 years from the early abolitionists to the present, this guide book profiles more than 400 people, places, and events that have... Read More »

Black Firsts: 4,000 Ground-Breaking and Pioneering Events, 2nd Edition


Black Firsts is a testament to a rich but often overlooked part of our history. Jessie Carney Smith, William and Camille Cosby Professor of the... Read More »

Black Heroes


"If there is no struggle, there is no progress," wrote Frederick Douglass. "This struggle may be a moral one; or it may be a physical one; or it may... Read More »
---