African American Hero of the Day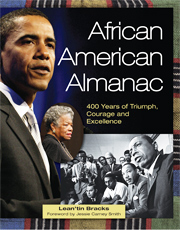 ---
Which actor won a best-supporting actor role for 1990's Glory?
He attended Fordham University as a pre-med student but switched to theater after auditioning for a Eugene O'Neal play and unexpectedly winning the part.
His early career included stage work and a role on the popular television medical drama St. Elsewhere.
Among his other movies are Cry Freedom (1987), Malcolm X (1992), and Training Day (2001).
Also a movie director, he co-produced the 2007 movie The Great Debaters with Oprah Winfrey.
---
---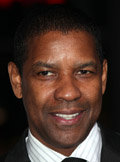 Denzel Washington (1954--)
Actor
Denzel Hayes Washington was born on December 28, 1954, in Mt. Vernon, New York. He attended an upstate private high school, the Oakland Academy, and then entered Fordham University as a pre#med major. Washington did not originally intend to become an actor, but when he auditioned for the lead role in a student production of Eugene O'Neill's The Emperor Jones, he won the part over theater majors. His performance in that play, and later in a production of Othello, led his drama instructor to encourage Washington to pursue an acting career.
Washington's first major role was in the off#Broadway drama A Soldier's Story; Washington recreated his role when the play was adapted into a motion picture in 1984. He played Dr. Phillip Chandler on the television series St. Elsewhere and appeared in a string of films, including Carbon Copy (1981), Cry Freedom (in which he portrayed South African activist Steven Biko; 1987), The Mighty Quinn (1989), Glory (1989), Mo' Better Blues (1990), Mississippi Masala (1992), Malcolm X (1992), Devil in a Blue Dress (1995), He Got Game (1998), The Hurricane (1999), and Training Day (2001).
Washington has expanded his role to that of director in the films Antwone Fisher (2002), and The Great Debaters (2007), which he co-produced with Oprah Winfrey. His latest films include The Book of Eli and Unstoppable, both released in 2010.
Washington's numerous awards include an Oscar for best supporting actor in Glory in 1990; several Golden Globes as well as the Silver Beard Award from the Berlin International Film Festival in 1993, the Image Award from the NAACP in 1999 for outstanding actor in the film The Hurricane (based on a true story about the life of incarcerated boxer Rubin Carter), and for his performance in The Great Debaters in 2007, and an Oscar for best actor in 2002 for his performance in the film Training Day, which also earned best actor awards from the Los Angeles Film Critics Association and the American Film Institute. Washington returned to the stage in 2010 and won a Tony Award for his performance in the play Fences.
From African American Almanac: 400 Years of Triumph, Courage and Excellence by Lean'tin Bracks, (c) 2012 Visible Ink Press(R). A wealth of milestones, inspiration, and challenges met . . .
Dig deeper with these related titles:
African American Almanac: 400 Years of Triumph, Courage and Excellence


A wealth of milestones, inspiration, and challenges met. . . The most complete and affordable single-volume reference of African... Read More »

Freedom Facts and Firsts: 400 Years of the African American Civil Rights Experience


Spanning nearly 400 years from the early abolitionists to the present, this guide book profiles more than 400 people, places, and events that have... Read More »

Black Firsts: 4,000 Ground-Breaking and Pioneering Events, 2nd Edition


Black Firsts is a testament to a rich but often overlooked part of our history. Jessie Carney Smith, William and Camille Cosby Professor of the... Read More »

Black Heroes


"If there is no struggle, there is no progress," wrote Frederick Douglass. "This struggle may be a moral one; or it may be a physical one; or it may... Read More »
---