African American Hero of the Day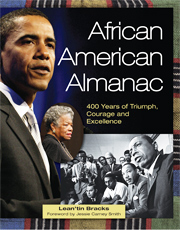 ---
What science fiction author is also a poet who was nominated for the Lambda Literary Award for a work he wrote about black gay poets?
He is the winner of the prestigious Hugo and Nebula Awards.
He currently teaches at Temple University, where he also directs the graduate writing program.
His wife is award-winning poet Marilyn Hacker.
Some of his best-known sci-fi was written in the 1960s, such as The Einstein Intersection.
---
---

Samuel R. Delany (1942-)
Novelist
Born in Harlem, and a published writer at the age of nineteen, Delany has been a prolific writer of science fiction novelettes and novels. His first book was The Jewels of Aptor (1962), followed by Captives of the Flame (1963). Babel17 (1966) and The Einstein Intersection (1967) both won Nebula Awards from the Science Fiction Writers of America, as have his short stories "Aye, and Gomorrah" and "Time Considered as a Helix of SemiPrecious Stones," which also won a Hugo Award at the World Science Fiction Convention at Heidelberg. Delany coedited the speculative fiction quarterly, Quark, Numbers 1, 2, 3, 4 with his former wife, National Book Award-winning poet Marilyn Hacker. He also wrote Dahlgren in 1975, and directed and edited the half-hour film The Orchid. He also served as a Visiting Butler Chair Professor of English at the State University of New York at Buffalo.
His other books include Distant Stars (1981); Stars in My Pocket Like Grains of Sand (1984); Flight from Neveryona (1985); Neveryona (1986); and The Bridge of Lost Desire (1988). His nonfiction works include The JewelHinged Jaw and The Motion of Light in Water, an autobiography.
Delaney's most recent book published in 2008, Dark Reflections, explores the experiences of black gay poets. The book was nominated for the Lambda Literary Award. Delaney has received numerous awards for his work and is considered a major African American writer, as the genre of science fiction crosses socially constructed lines. He is a professor of English and Director of the Graduate Creative Writing program at Temple University in Philadelphia.
From African American Almanac: 400 Years of Triumph, Courage and Excellence by Lean'tin Bracks, (c) 2012 Visible Ink Press(R). A wealth of milestones, inspiration, and challenges met . . .
Dig deeper with these related titles:
African American Almanac: 400 Years of Triumph, Courage and Excellence


A wealth of milestones, inspiration, and challenges met. . . The most complete and affordable single-volume reference of African... Read More »

Freedom Facts and Firsts: 400 Years of the African American Civil Rights Experience


Spanning nearly 400 years from the early abolitionists to the present, this guide book profiles more than 400 people, places, and events that have... Read More »

Black Firsts: 4,000 Ground-Breaking and Pioneering Events, 2nd Edition


Black Firsts is a testament to a rich but often overlooked part of our history. Jessie Carney Smith, William and Camille Cosby Professor of the... Read More »

Black Heroes


"If there is no struggle, there is no progress," wrote Frederick Douglass. "This struggle may be a moral one; or it may be a physical one; or it may... Read More »
---