African American Hero of the Day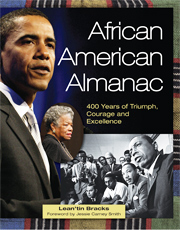 ---
Who was the first African American to go into space?
He attained the rank of lieutenant colonel in the U.S. Air Force.
He entered NASA's astronaut program in 1979, and his first shuttle mission was on the Challenger in 1983.
Among his many honors is a NASA Space Flight Medal.
In 1997 he was inducted into the International Space Hall of Fame.
---
---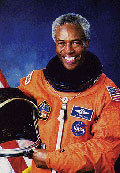 Guy Bluford (1942--)
Astronaut
Guion Stewart "Guy" Bluford Jr. was born November 22, 1942, in Philadelphia, Pennsylvania. He graduated with a B.S. from Pennsylvania State University in 1964. He then enlisted in the U.S. Air Force and was assigned to pilot training at Williams Air Force Base in Arizona. Bluford served as a fighter pilot in Vietnam and flew 144 combat missions, sixty-five of them over North Vietnam. Attaining the rank of lieutenant colonel, Bluford received a M.S. from the Air Force Institute of Technology in 1974 and a Ph.D. in aeronautical engineering in 1978.
In 1979 Bluford was accepted in NASA's astronaut program as a mission specialist. On August 30, 1983, with the lift-off of the STS-8 Orbiter Challenger, Bluford became the first African American in space. He flew two other space shuttle missions--in 1985 and 1991--for a total of 314 hours in space. Bluford retired from NASA in 1993 to pursue a career in private industry.
Bluford has won numerous awards, including the Distinguished National Science Award given by the National Society of Black Engineers (1979), NASA Group Achievement Award (1980, 1981), NASA Space Flight Medal (1983), and the NAACP Image Award (1983). Some of his military honors include the National Defense Service Medal (1965), Vietnam Campaign Medal (1967), Air Force Commendation Medal (1972), Air Force Meritorious Service Award (1978), and the USAF Command Pilot Astronaut Wings (1983). Bluford was inducted into the International Space Hall of Fame in 1997.
From African American Almanac: 400 Years of Triumph, Courage and Excellence by Lean'tin Bracks, (c) 2012 Visible Ink Press(R). A wealth of milestones, inspiration, and challenges met . . .
Dig deeper with these related titles:
African American Almanac: 400 Years of Triumph, Courage and Excellence


A wealth of milestones, inspiration, and challenges met. . . The most complete and affordable single-volume reference of African... Read More »

Freedom Facts and Firsts: 400 Years of the African American Civil Rights Experience


Spanning nearly 400 years from the early abolitionists to the present, this guide book profiles more than 400 people, places, and events that have... Read More »

Black Firsts: 4,000 Ground-Breaking and Pioneering Events, 2nd Edition


Black Firsts is a testament to a rich but often overlooked part of our history. Jessie Carney Smith, William and Camille Cosby Professor of the... Read More »

Black Heroes


"If there is no struggle, there is no progress," wrote Frederick Douglass. "This struggle may be a moral one; or it may be a physical one; or it may... Read More »
---