African American Hero of the Day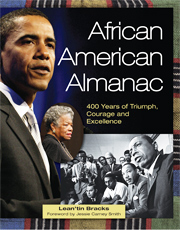 ---
What supermodel has become a successful businesswoman and starred in her own reality show about models?
She was born to a low-income family in Los Angeles, California, in 1973.
She has written a popular book about beauty that also is about the beauty within.
She is a talk show host.
She was voted Supermodel of the Year in 1997.
---
---
Tyra Banks (1973-)
Model, Talk Show Host
Tyra Banks, a top fashion model who has become a multimedia personality, was born December 4, 1973, in Los Angeles, California. Banks's extraordinary modeling career began in 1991 when her impressive runway performance in Paris, France, earned her a spot in numerous other shows. Banks's career in modeling earned her attention as one of the 50 Most Beautiful People in 1994 and 1996 and Supermodel of the Year in 1997.
In 2005 Banks retired from modeling and began an acting and movie career. With experience as a producer for the television show America's Next Top Model, Banks launched The Tyra Banks Show, a daytime talk show. The show was very successful and won several daytime Emmy Awards. Banks has started a scholarship at her alma mater for African American girls, founded a camp for teenage girls, and written the book Tyra's Beauty Inside and Out. She shares her experiences as a young woman and as an entrepreneur in her role as a motivational speaker. Her talents and burgeoning role as media mogul continues to earn attention.
From African American Almanac: 400 Years of Triumph, Courage and Excellence by Lean'tin Bracks, (c) 2012 Visible Ink Press(R). A wealth of milestones, inspiration, and challenges met . . .
Dig deeper with these related titles:
African American Almanac: 400 Years of Triumph, Courage and Excellence


A wealth of milestones, inspiration, and challenges met. . . The most complete and affordable single-volume reference of African... Read More »

Freedom Facts and Firsts: 400 Years of the African American Civil Rights Experience


Spanning nearly 400 years from the early abolitionists to the present, this guide book profiles more than 400 people, places, and events that have... Read More »

Black Firsts: 4,000 Ground-Breaking and Pioneering Events, 2nd Edition


Black Firsts is a testament to a rich but often overlooked part of our history. Jessie Carney Smith, William and Camille Cosby Professor of the... Read More »

Black Heroes


"If there is no struggle, there is no progress," wrote Frederick Douglass. "This struggle may be a moral one; or it may be a physical one; or it may... Read More »
---