Black First of the Day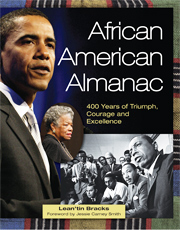 ---
Which poet could number President George Washington among her admirers and hers was the first first book of poetry published by an African American?
She was born in Gambia in 1753.
She was a slave in Massachusetts.
Some of her poems were published in London, England.
Her last poem was "Liberty and Peace."
---
---
Phillis Wheatley (1753-1784)
Poet
Born in Gambia in 1753, Phillis Wheatley was brought to the United States as a slave and received her name from Mrs. Susannah Wheatley, the wife of the Boston tailor who had bought Phillis.
Wheatley received her early education in the household of her master. Her interest in writing stemmed from her reading of the Bible and the classics under the guidance of the Wheatleys' daughter, Mary.
In 1770, her first poem was printed under the title "A Poem by Phillis, A Negro Girl, on the Death of Reverend George Whitefield." Her book Poems on Various Subjects: Religious and Moral was published in London in 1773. After a trip to England for health reasons she later returned to the United States, and was married. She published the poem "Liberty and Peace" in 1784, shortly before her death. Most of the old books of her poems, letters, and memories about her life were reprinted in the late 1960s and early 1970s. Two books about her are Julian D. Mason Jr.'s The Poems of Phillis Wheatley (1966) and William H. Robinson's Phillis Wheatley, A Biography (1981). Robinson also compiled and published Phillis Wheatley: A Biography (1981).
Although George Washington was among her admirers (she had once sent him a tributary poem, which he graciously acknowledged), her poetry is considered important today largely because of its historical role in the growth of black literature. Wheatley's poetry reflects AngloSaxon models, rather than her African heritage. It is nevertheless a typical example of the verse manufactured in a territory--the British colonies--not yet divorced from its maternal origins. Wheatley died on December 5, 1784.
From African American Almanac: 400 Years of Triumph, Courage and Excellence by Lean'tin Bracks, © 2012 Visible Ink Press®. A wealth of milestones, inspiration, and challenges met . . .
Dig deeper with these related titles:
Black Firsts: 4,000 Ground-Breaking and Pioneering Events, Third Edition


Achievement engenders pride, and the most significant accomplishments involving people, places, and events in black history are gathered in Black... Read More »

African American Almanac: 400 Years of Triumph, Courage and Excellence


A wealth of milestones, inspiration, and challenges met. . . The most complete and affordable single-volume reference of African... Read More »

Freedom Facts and Firsts: 400 Years of the African American Civil Rights Experience


Spanning nearly 400 years from the early abolitionists to the present, this guide book profiles more than 400 people, places, and events that have... Read More »

Black Heroes


"If there is no struggle, there is no progress," wrote Frederick Douglass. "This struggle may be a moral one; or it may be a physical one; or it may... Read More »
---