Black First of the Day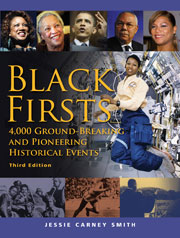 ---
Why was Hattie McDaniel's performance in Gone with the Wind significant?
In 2010, Geoffrey Fletcher became the first African American to win for an adapted screenplay.
In 1971,Isaac Hayes (1942-2008) was the first black American composer to be honored with this award.
Whoopi Goldberg followed her supporting footsteps in 1994.
In 1964, Sidney Poitier (1924-) became the first black actor to win for a starring role.
---
---
1940
The First Black Academy Award Winner
In 1940 Hattie McDaniel (1895-1952), singer, vaudeville performer, and actress, was the first black to win an Academy Award for her supporting role Mammy in Gone with the Wind. McDaniel made her radio debut in 1915, and is said to be the first black American woman to sing on radio. Often called "Hi- Hat Hattie," she was born in Wichita, Kansas, and moved to Hollywood in 1931. She made her movie debut in The Golden West in 1932, and appeared in more than three hundred films during the next two decades. Her career was built on the "Mammy" image, a role she played with dignity. She appeared on radio with Eddie Cantor and the "Amos 'n Andy" shows. She was entered into the Black Filmmakers Hall of Fame posthumously in 1975.
Sources: Logan and Winston, Dictionary of American Negro Biography, pp. 414-15; Hornsby, Milestones in Twentieth-Century African-American History, p. 35; Negro Almanac, p. 1426; Smith, Notable Black American Women, pp. 703-05.
From Black Firsts: 4,000 Ground-Breaking and Pioneering Events by Jessie Carney Smith, © 2013 Visible Ink Press®. A celebration of achievement, accomplishments and pride.
Dig deeper with these related titles:
Black Firsts: 4,000 Ground-Breaking and Pioneering Events, Third Edition


Achievement engenders pride, and the most significant accomplishments involving people, places, and events in black history are gathered in Black... Read More »

African American Almanac: 400 Years of Triumph, Courage and Excellence


A wealth of milestones, inspiration, and challenges met. . . The most complete and affordable single-volume reference of African... Read More »

Freedom Facts and Firsts: 400 Years of the African American Civil Rights Experience


Spanning nearly 400 years from the early abolitionists to the present, this guide book profiles more than 400 people, places, and events that have... Read More »

Black Heroes


"If there is no struggle, there is no progress," wrote Frederick Douglass. "This struggle may be a moral one; or it may be a physical one; or it may... Read More »
---