The Handy Technology Answer Book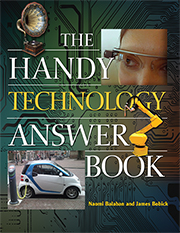 ... provides easily understandable short answers to common technology questions about computers, cell phones, and so many other inventions that are part of our everyday lives at work and at home. Ö full of well researched information ...

National Science Teachers Association Recommends
Exploring technology and the making of the modern world.
Technology pervades our daily lives and modern society, and not just when it comes to computers and smart phones. Before there was the computer, there was the abacus. Before the smart phone, there was the telegraph and ball point pen. Electricity, penicillin, and the compass have all led to revolutionary changes in how we live.
The Handy Technology Answer Book
explains how technology has revolutionized the way people live, work, and play. It covers a broad range of fields, including medicine, mining, architecture, transportation, the military, and agriculture, and how they have been changed by technology.
From the relationship between science and technology to nanotechnology, robots, and predictions for future technology, The Handy Technology Answer Book presents the latest and the historical in an engaging and informative format. It brings well-researched answers to more than 1,100 common questions on technology, such as: What are the major time periods of technology? Who is considered to be the first engineer? Which individual was granted the most U.S. patents? What is a Uniform Resource Locator, or URL? What products are made from recycled plastic? Can human beings be cloned? What is the future of wearable technology in health care?
E-mail to a Friend
Quick Facts
ISBN: 9781578595631
PDF ISBN: 9781578595945
Kindle ISBN: 9781578595969
ePUB ISBN: 9781578595952
464 pages
120 photos and illustrations
7.125 x 9.25 paperback
$49.95
Related Titles
You might also enjoy...
Also by Naomi Balaban...
Also by James Bobick...
---
---